Join the Artistic Motion Family!
Artistic Motion has been training dancers who are recognized all over world. We offer a variety of classes from age 3 to adult taught by a well-esteemed faculty from Russia, Armenia, South Korea, the Dominican Republic, and the United States.
OUR LATEST NEWS
Hello Parents and Dancers, We hope all are well and enjoying a nice holiday weekend… socially distant of course! Here's […]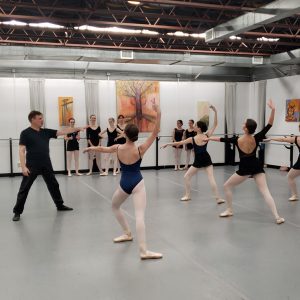 Artistic Motion is pleased to announce the Ballet Master Intensive With Valery Lantratov! Valery Lantratov Master Intensive Flyer Registration for the […]
GET YOUR TICKETS NOW» The holiday event in Greensboro is our very own Artistic Motion Dance Company's sparkling production of […]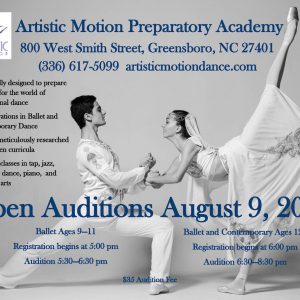 Please see our complete schedule listing classes, times, and tuition for our downtown studio and our studio at Greensboro Day School. Classes begin […]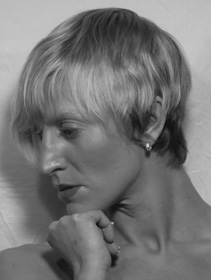 We are pleased to have B. J. Sullivan teaching a Master Mini Contemporary Intensive next week, June 10-14, from 4:30-8:30pm […]
Artistic Motion proudly invites dancers ages 11-Adult with strong previous dance training to join us on the summer dance experience […]
Testimonials
Natalie is happy there and if she's happy , then I'm happy! Also, her dancing has improved a lot as well as her complete posture . Good job Artistic Motion, keep up the good work! Thank You!
Mother of Natalie Stevens, Katherine Stevens
The studio has consistently been gracious in accommodating my interests and dance goals and being a student at this studio has improved my dancing tremendously.
Telephone: (336) 617-5099
Downtown studio office hours: Monday-Friday, 9:00am-3:00pm
Management
Natalya Davison, Executive Director (email)
Lynn Angermeier, Business Manager (email)
Marketing
Marketing & Public Relations (email)
Studio Locations
Downtown Greensboro Studio
800 W. Smith Street, Suite A, Greensboro, NC 27401

Greensboro Day School Studio
5401 Lawndale Drive, Greensboro, NC 27455