We take pride in carefully selecting the highest quality instructors who reflect our values and commitment to excellence. From professional dance companies to major musical theatre stages, our adult faculty have extensive, first-hand knowledge of their field and what it takes to make it to the top. They have a passion for passing on that knowledge in order to make our students the very best they can be!
Login to Faculty Portal
Faculty
Natalya Igitkhanyan Davison
Executive Director, AMPA Classical Director, Dance Instructor
Natalya studied at the Armenian Choreographic Academy as well as GITIS, the world-renowned Moscow State University of Dramatic Art. She specializes in Ballet and international folk dances, with over thirteen years of teaching experience.
Natalya's first teaching position in America was for The Dance Project: School at City Arts, where she taught for four years. She opened her own studio, Artistic Motion, in 2000. Known for her enthusiasm, caring nature and advocacy for all facets of the performing arts, Natalya continues to share her passion and knowledge throughout the community, having taught Ballet and Dance History at Greensboro College and teaching Advanced Ballet at The Dance Shop in Asheboro, in addition to the numerous dance classes she teaches at Artistic Motion.
During the summer of 2007, Natalya organized Artistic Motion's first cultural exchange project with the professional dance company Barekamutyun in Yerevan, Armenia. The dancers learned Ballet and Armenian Folk Dances from professional teachers and performed with the professional Company dancers. They spent two intense weeks before the trip preparing and learning original choreography in Modern and Jazz that was then performed at the beautiful Opera House in downtown Yerevan. E-mail Natalya
Lynn Angermeier
Administrative Director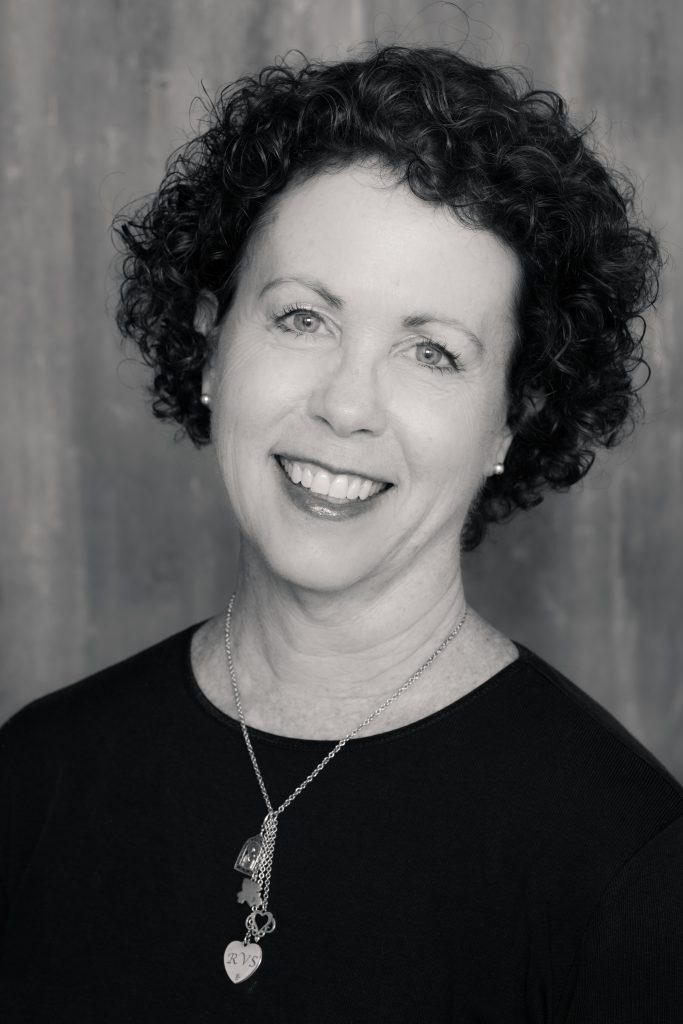 Having dreamed of becoming a dancer her whole life, Lynn finally stepped into the studio to begin serious Ballet training at the age of 38. Realizing that age is only a number, she continues to take weekly classes and teach students of all ages that pursuing one's passion is truly important.
Among the classes Lynn teaches at Artistic Motion are Adult Beginning Ballet, Creative Movement, Ballet/Tap/Tumbling I, and Ballet II. She has studied with guest artist Valery Lantratov. Her extensive performing experience includes dancing in many regional productions and participating in Artistic Motion's first cultural performing arts exchange at Yerevan, Armenia. Lynn holds a Bachelor of Science in Education from the University of Texas and has more than 17 years of teaching experience.
Lynn also serves as Artistic Motion's Administrative Director, taking care of billing and parent/student correspondence. E-mail Lynn
Jiwon Ha
AMPA Contemporary Director, Dance Instructor
Born and raised in Busan, South Korea, Jiwon has worked with students of all ages since she started teaching in 2004. Her goal is always to find and emphasizes the strengths of her students and help shape them into mature artists. She continuously teaches and trains in multiple forms of dance – contemporary, ballet, jazz, hip-hop, and tap. That passion for teaching and learning has allowed her to dance, train, choreograph, and organize events in the U.S., Canada, and South Korea.
While completing her BFA in Dance, and Masters of Dance Education from Pusan National University, she focused her thesis on Laban Movement Analysis, a method for describing and interpreting human movement. This took her to the Busan Dance Company (BADA) where she was lead dancer for four years. Her solo choreography was selected two years in a row for the Annual Young Choreographer performance in Busan. Soon after, Jiwon trained in Toronto, Canada and performed in the 2011 Toronto Fringe Festival.
For four years as administrative director with the World Dance Alliance, she brought together dancers from Hong Kong, Indonesia, Japan, and Korea where they collaborated on performances for World Dance Day in Seoul and Busan.
Jiwon also worked as a dance teacher and choreographer for the Art High School in Busan, South Korea where she focused extensively on performances, competitions, musical productions, and company/university auditions with her students. Her students have won awards at the International Performing Art festival in Korea every year since 2013. Her musical choreography of Fame also received an award from the Korea Youth Art Council. During the school's 2014 summer break, her solo was featured at the NYU Steinhardt IMPACT event in New York. On that trip, she connected with her future husband, and now calls Greensboro home.
In 2018, Jiwon became the AMPA contemporary program director and helped create the contemporary curriculum. She also started teaching dance at Elon University as an adjunct faculty member.
Misha Tchoupakov
Dance Instructor
Born and raised in Moscow, Russia, Misha Tchoupakov has performed with the Bolshoi Ballet in Moscow as well as Colorado Ballet, Sarasota Ballet of Florida, Los Angeles Classical Ballet, San Francisco Opera Ballet in the U.S. and Vienna State Opera Ballet in Austria. He also holds an M.F.A. in Dance Pedagogy and Choreography from the Moscow State Academy of Choreography and he has taught for Colorado Ballet, Houston Ballet, Oregon Dance Theatre, State Street Ballet, Ballet Arlington in the U.S.; Tokyo City Ballet in Japan; Guangzhou Ballet in China; Galili Dance in the Netherlands; Cluj Opera Ballet and Sibiu Ballet Theatre in Romania; Cia Brasileira de Ballet and Teatro Municipal do Rio De Janeiro in Brazil; Ballet Nacional Sodre in Uruguay; and Tivoli Ballet Theater in Denmark. He was also on the faculty of the Royal Ballet School, the Elmhurst School for Dance in Association with Birmingham Royal Ballet, and the English National Ballet School in the UK and served as Assistant Professor at the University of Utah Department of Ballet. Mr. Tchoupakov has been a member of the jury for many prestigious Ballet and Contemporary Dance competitions around the world, such as PBK Ballet Competition in Kyoto, Japan; Domenico Modugno International Ballet and Contemporary Dance Competition in Lecce, Italy; FEDIFEST in Santos City, Brazil; and La Stella di Domani in Catania, Italy to name just a few. For the past 20 seasons, he has worked with YAGP Ballet and Contemporary Dance Competition in New York as Rehearsal Director, Judge and Master Teacher and is an internationally renowned guest teacher. Mr. Tchoupakov joined the faculty of School of Dance at University of North Carolina School of the Arts in 2013 as Assistant Professor.
Carol Terry
Tumbling/ACRO Instructor
Carol Terry teaches tumbling and acrobatics at Artistic Motion. She holds a BS and an MBA from the University of North Carolina at Wilmington. She fell in love with tumbling at the age of five when she took her first tumbling class. That love of tumbling turned into a love for cheerleading as she cheered throughout middle and high school, and on the Varsity Squad at Campbell University. Carol was also a cheerleading coach for many years and has teaches Artistic Motion's summer cheerleading camp at Greensboro Day School. As a third degree black belt in Tae Kwon Do and a Tae Kwon Do instructor since 1997, she also has a passion for Martial Arts. She uses this passion to teach a women's fitness and practical self-defense classes at Greensboro Black Belt Academy. Carol enjoys sharing her love for tumbling with children of all ages. She takes the fear out of learning new skills with her soft spoken style of encouragement and praise. Carol's strongest trait is her ability to build on each individual student's skill level within a diverse class setting.
Emmanuel Malette
Dance Instructor
Emmanuel Malette (Greensboro, NC) is a dancer and choreographer. Upon his birth, doctors said that he would be physically and mentally disabled. Taking a liking to dance, Emmanuel proved them wrong by pursuing dance with his entire being. He began his dance training at the age of 13 by watching YouTube videos and attending summer camps taught by his cousin Kimberly Jones. In 2012, Emmanuel auditioned for and got accepted into the School of Dance at the University of North Carolina at Greensboro. There, Emmanuel was able to hone and refine his skills in contemporary, ballet, jazz, modern, and African dance techniques. Emmanuel has had the opportunity to compete in Usher's Megastar Competition, receiving top 5 global recognition. He has also worked with Oscar/Emmy winning David Darg on the dance film "Samuel Wyatt's Ghost," through Experimental Films Virginia. Emmanuel has performed in the John F Kennedy Center for Performing Arts, The Monticello Summit, and many other respectable places. Emmanuel has also choreographed for music videos and has taught dance for many years. Today, Emmanuel focuses on using his story to inspire every person that he connects with to have the "Showtime Mentality," which means to always confidently believe in yourself against all odds.
Shannon Bell
Dance Instructor
Shannon Bell (Boston, MA) is currently pursuing a BFA in dance and BA in arts administration from the University of North Carolina Greensboro. She developed her passion for dance at a small dance studio in North Reading, MA, training in ballet, tap, contemporary, and jazz. Utilizing this foundation of technique, Shannon has furthered her study of performance and choreography at UNC Greensboro, Urbanity Dance Boston, Joffrey Ballet School, and private training and work shops with professional dance coaches in NYC.
Hannah Nichols
Dance Instructor
Hannah Nichols was born and raised in Brookings, South Dakota, where she began dancing at the age of three. She danced in two pre-professional companies in high school and performed across South Dakota and Minnesota. After high school, Hannah attended New Mexico State University and received her Bachelors of Arts in Contemporary Dance in 2018. During her time there, Hannah performed in over 30 works, and premiered eight pieces of choreography. Hannah has studied with companies including Noble Motion, Lux Boreal, and Stefanie Nelson Dance Group. She continues to travel and learn various techniques all over the world to incorporate in her choreography and teach her students.

Kassandra Kolbeck
Dance Instructor
Kassandra Kolbeck (Sioux Falls, SD) is a junior BFA in dance and BS in kinesiology at UNCG. She began her dance training at Balleraena Dance Studio under the instruction of Raena Rassmussen where she trained in Jazz, Hip-Hop, Ballet, Tap, Lyrical, Contemporary, Pointe, and Acro. She also trained at Power and Grace gymnastics for 14 yr under the coaching of Dennis Champoux. In the summer of 2017 she was selected by Gregory Dolbashian to be a dancer in his piece Hive Mind performed during the Footproots concert at ADF in Durham, NC. Over the summer of 2018 she was accepted to the DASH ensemble apprenticeship training with the company and performing in Brooklyn, NY. Also during the summer of 2018 she was accepted to the Synthesis apprenticeship, having the opportunity to perform in the company show at the Gelsey Kirkland Academy for dance. During her time at UNCG she has performed in a multitude of showcases including; Spring/Fall dances, MFA showcase, BFA showcase, and Mary Hunt's thesis work. Most recently she has had the opportunity to be selected as a cast member in the re- working of Bill T. Jones original piece Freedom of Information Act III set by Janet Lilly. She plans to graduate in 2020 and pursue her dance career in performance as well as be a certified personal trainer.
Kishie Wyatt
Yoga Instructor, RYT-500
Kishie took her first step on the path of yoga at the age of 16, when her grandfather introduced her to meditation. The world of meditation gave Kishie the courage to embark on unconventional journeys, and instilled a sense of personal power and the understanding that each individual is blessed with the ability to create the life that they want. When she later experienced the physical practice of yoga, she was amazed at the magic of connecting a meditative mind to breath and body movement. The peace and spaciousness she experienced was similar to that created through meditation, and it had the added benefit of soothing her physical aches and pains. Kishie became certified to teach at The Triad Yoga Institute in 2011, and earned her 500 hour certification in 2014. Kishie's goal as an instructor is to connect to the inner light of each of her students, and to provide a space for growth and personal discovery. Through yoga, we can all learn to be a witness to our emotional, mental and physical habits. We can gain the power to make profound shifts, leading to a more peaceful, connected, joyful life.
Kishie offers gratitude to her instructor, Terry Brown, and to all who have been a part of her yoga adventure. She gives the deepest thanks to her loving husband and her three spirited children, who, each and every day, prove to be the sweetest blessing.
Shekinah Walsh
A classically-trained musician, Shekinah Walsh received her Bachelor of Music in Music Education in 1997 from the UNCG School of Music. She has taught private piano and voice in her home studio over the last 20 years. She has taught students of all ages a wide variety of subjects, and thoroughly enjoys every teaching opportunity. At UNCG, she was selected by the School of Music piano faculty as the Keyboard Division representative for School of Music Student Council. While teaching with Guilford County School system, she served as a mentor music teacher. She has served as both worship leader and Youth and Children's Director at various churches, and as the choral and/or music director of several music programs and performances. Shekinah has been a guest performer on many occasions throughout her life. She is happily married with four children ages 21, 17, 12, and 10.
Dex Davison
Drama Instructor
Deb LeWinter
Drama Instructor
Ashley Lewis
Dance Instructor
Employment at Artistic Motion
We are always accepting resumes for experienced dance, music, and drama instructors. To apply, please Send a cover letter, resumé and three professional references here.